Comments

Comments Off
by
MobileIQ
on January 1, 2015
Headlight can run from any standard browser like Firefox, Safari, Chrome and Internet Explorer, but using the Fleet Manager application takes an extra couple of steps. You'll need to configure a Remote Desktop Connection (RDC) to run Fleet Manager. This utility come with all versions of Windows and the setup instructions are similar.
Note: Click here to Setup Fleet Manager for OSX
Obtain Fleet Manager login credentials
Log into Headlight, click the Setup link (upper right corner), click the Settings tab and click the Users link. This will display a list of all active users for the Headlight account. The first entry highlighted in grey is the Headlight administrator account. Copy/paste the username and password from this screen for the next step. These are the login credentials that will be used for Fleet Manager.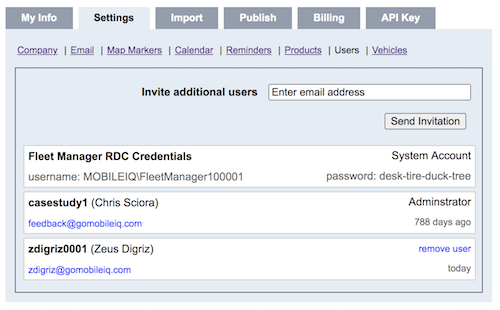 Configure Remote Desktop Connection
The Remote Desktop Connection software is pre-installed with Windows. Use Start | Search to search for remote and select Remote Desktop Connection from the default Apps result list. Click Show Options to enter the login credentials from the preceding step.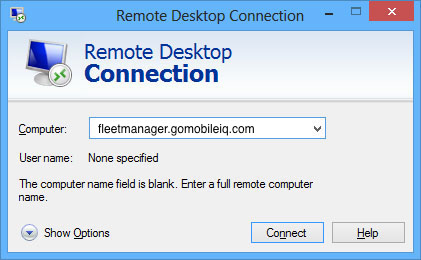 Computer: fleetmanager.gomobileiq.com
Username: xxxxxxxxxx
Enter your login credentials from Headlight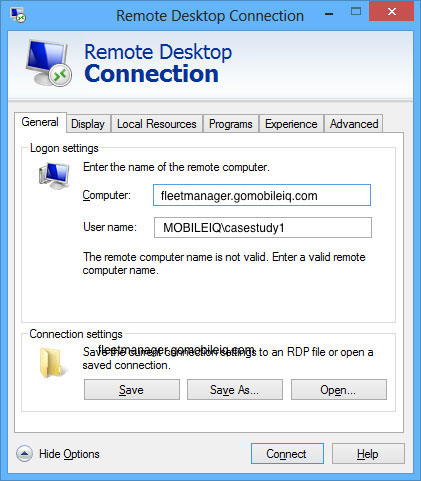 Username: xxxxxxxxxx
Password: xxxxxxxxxxxxxxxx (16 characters total)
Domain: MOBILEIQ
Note: Some version of Remote Desktop Connection don't have the domain field. Instead, you can use MOBILEIQ\username in the username field to specify the domain.
Click Connect
If everything is setup properly, you'll be connected to the Headlight server and Fleet Manager will automatically launch.
Troubleshooting
Verify the correct user credentials are being used, especially the password. It's case-sensitive and easy to mistype. If you still can't connect, check with your system administrator and verify your computer is allowed to access remote servers. Many computer networks have security policies that prohibit users from using Remote Desktop Connection to run applications.
Download Links
Download Microsoft Remote Desktop Connection Client for Windows 7
Tags: tutorials, using headlight