Comments Comments Off

on Headlight won't let me login
by
MobileIQ
on May 4, 2009
One of these answers will almost certainly fix the problem.
1. Is this a new Headlight account?
Your account information was sent by email . It includes the username, password and contact information provided when creating the account. Check your recent email, trash, spam filters or folders that might use automated routing rules.
2. Are you using the right password?
Way more common than you'd think. We make this mistake all the time. Wrong account, typos, caps lock turned ON, forgot about changing it last week, stuff like that like. Slow down and type it C-A-R-E-F-U-L-L-Y.
There's also a very small possibility the original password got corrupted in Headlight's user database. If you're sure about the password, follow the steps below to have it reset. You can always reset the password to the original one.
3. I forgot my username or password
Click the link above the login box and enter the email address originally used to create your account. Headlight passwords aren't stored for security purposes, so you'll receive a link by email with instructions to reset your password. Note: Customer support can't access your password or send the password reset email.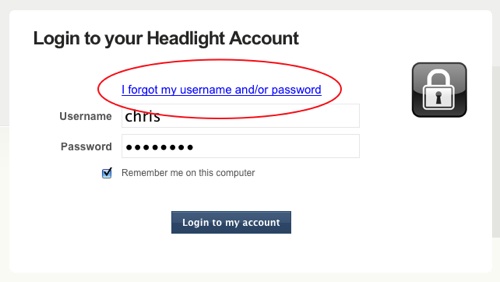 4. Clear the password cache
Most browsers will helpfully store passwords for you. It works great until the login information changes. Try the steps listed in #2. If that works, check online for help in clearing out the saved password from the browser.
Tags: tutorials, using headlight